God will always provide for us.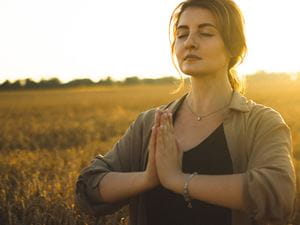 Twenty20
Trusting God for our daily provision looks different than just mouthing the words. In the aftermath of a pandemic, when the economy looks bleak and rising costs are greeting us everywhere, how we live says it all about whom we trust to meet our daily needs.
What a comfort to know that God promises to take care of those who are trusting in Him in His Word. Matthew 6:8 tells us our Father knows what we need before asking Him. Yet He still wants us to ask, rely on Him, and bear witness to others of the many ways He is Jehovah Jireh, the Lord who provides.
What we do, or don't do, says more than our words about where our trust lies. Here is what it looks like to trust in God's provision.
You honor God with the first of all you have.
As followers of His, God expects us to be good stewards of all we have, material possessions, and money. We can do that by acknowledging that He is the owner of everything; we are simply managers of the money and possessions He has entrusted us with. This mentality keeps us in perspective, keeps us humble, and keeps us from living beyond our means or spending money on something God would disapprove of.
Then, as we heed the guidelines outlined in His Word about not getting into debt, not living beyond our means, and not going into business with someone we can't trust, we can be confident that God has our backs on everything we need. Acknowledging that all you have is God's anyway makes significant purchases and investments a matter of prayer since you'll want to consult the owner about how He would like you to manage His funds. Anytime you make God the primary decision-maker and master of your life, His blessings follow.
Whether you tithe ten percent of your income or "tip" God, He wants your giving to be deliberate and intentional, planned out ahead of time, never an after-thought or an obligatory gesture with what you have left at the end of the month. As you honor God with what you have, you can be confident He will keep you.
You don't stress about your day-to-day needs.
If a loving God can take care of your eternal life through the atoning sacrifice of His only Son, then certainly He can take care of your everyday life. Genuinely believing that means not stressing about having all we need, paying the monthly bills, or being able to handle an unexpected expense.
Jesus told His followers in Matthew 6:25-26: "do not worry about your life, what you will eat or drink; or about your body, what you will wear…Look at the birds of the air; they do not sow or reap or store away in barns, and yet your heavenly Father feeds them. Are you not much more valuable than they?"
That sounds like a clear "Don't worry about it" statement from the Son of God, who assures us He's got our backs. Because you have a God in control, don't you feel you must be! Trust that He is working on what you need, as you can let go of the stress and depend on Him.
You take God at His Word and believe in His promises.
Ask any believer, and they'll likely tell you, "Of course, God keeps His promises." "Of course, I believe His Word." But do we? Or do we stress and strive instead of thinking that God is sitting this one out when it comes to our immediate or long-term needs?
Psalm 121:1-3 tells us, "My help comes from the LORD, Who made heaven and earth. He will not allow your foot to slip; He who watches over you will not slumber." And believers are assured in Philippians 4:19 (NASB) that our God "will supply all [our] needs according to His riches in glory in Christ Jesus." One of the best ways to show that we truly trust God is to take Him at His Word and depend on His character and faithfulness to provide for us.
You rest peaceably and don't strive, when it comes to your finances.
Although God wants us to be productive and have a good work ethic (Proverbs 6:9-11), He doesn't want us to work like we're on our own when it comes to our provision.
Psalm 27:2 tells us we are wasting our time getting up before the crack of dawn and going to sleep past midnight, toiling and striving to make things happen because the God of the Universe "gives to His beloved even in his sleep" (NASB).
The next time you think you have to work through – or worry through – the night because of your financial needs, remember that God has a way of working it out if you just rest in Him. Throughout God's Word, He commands us to rest, and by trusting Him to provide while we get the rest we need, we are being obedient to, literally, "do our best and trust God with the rest."
You live confidently that God has you securely in His hands.
In Psalm 16, David sang, "Lord, you alone are my portion and my cup; you make my lot secure…with [God] at my right hand, I will not be shaken" (verses 5, 8).
When we trust in God's provision, realizing He is our inheritance (Psalm 16:5-6), our "stability" in these changing times (Isaiah 33:6), and the One in whom we trust, we will not be shaken – not by a stock market crash, or a job loss or a sinking economy or a wrong financial forecast. When we trust in God's provision, we are assured that He is our stability and security.
Psalm 18:30 says, "As for God, his way is perfect: The Lord's word is flawless; he shields all who take refuge in Him." When you really believe that God is a far better manager of your money and a far better provider of your needs than you or anyone else, you can rest assured that He's got this and that the best is still to come.