As a child of God, you've been called to "be the light."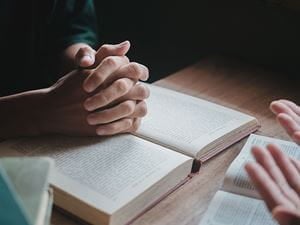 Shutterstock.com
In the same way, let your light shine before others, that they may see your good deeds and glorify your Father in heaven. – Matthew 5:16, NIV
As a child of God, you've been called to "be the light." You've been given a very special role in our current culture and the situations in which you find yourself. Ever since the true Light came into the world, the darkness has not been able to overcome it. That's why you can be strong. You already know that the victory is yours and you know who the winner is. Everything else that surrounds you that makes you feeble in the knees, or causes you to tremble is very real, but it isn't the last word.
As a person of prayer, God is on your side, and He offers you protection and guidance to navigate those things that vex your spirit and bring grief to your soul. You and God together are a force to be reckoned with and there is no power on earth that can separate you from the love of the One who holds you in His hand.
Jesus reminded us in the Lord's Prayer to pray that God would deliver us from evil and keep us from temptation. If you're tempted to worry for friends or family members or to become distracted with the news you read or hear about each day, then you have an incredible resource. You can pull on your spiritual armor and stand up and pray to be the light that will draw someone closer to God.
Here are five ways you can pray for those you love and for those who do not yet see that God still reigns.
Pray to see God's light all around you.
Brothers and sisters, think about the things that are good and worthy of praise. Think about the things that are true and honorable and right and pure and beautiful and respected. – Philippians 4:8, NCV.
Pray to see God's hand at work everywhere you turn, to encourage your spirit and strengthen your hope in all He can do. Ask God to bless the hearts and minds of people everywhere so they will be awakened to all God is and wants to be in their lives. Pray their eyes will see the truth of God, and their hearts will understand how loved they are. Ask Jesus Christ to redeem them and save their souls from utter darkness. Pray too that once they are awake, they will crave a relationship with their Creator so their hearts will be aligned with His. Trust that your prayers are heard and will be answered, and you can know without doubt that God watches protectively over the hearts, minds, and souls of those who are brought before His throne.
Pray to be surrounded by God's peace and presence.
God says, "Be still and know that I am God. I will be praised in all the nations; I will be praised throughout the earth."- Psalm 46:10, NCV.
Be still and sit quietly in the Presence of God and His Holy Spirit. As you breathe in His strength and mercy and love, breathe out worry and fear and those things that keep you detached from Him. Ask Him to rescue you and those you love from any sense of darkness; not out of fear, but out of trust, out of knowing that God alone reigns. Pray that at the sound of Jesus' name, Satan will be forced to flee. Praise God for every prayer He has answered for you before that encourages you to believe He keeps you safe by His side. Trust that when you pray for Him to draw near to you, He will come running toward you and you will never be alone. Let God fill your heart and soul with His peace.
Pray to stop the noises and distractions.
Psalm 5:11, NIV, says: But let all who take refuge in you be glad; let them ever sing for joy. Spread your protection over them, that those who love your name may rejoice in you.
Take refuge in God, allowing Him to strengthen and encourage you. Have certainty in knowing He will never leave you. Despite the noises in your head or the shattering news reported on the Internet, you can be strong. Why? Because God is on your side. Pray for the strength to step away from newsfeeds that only serve to poison your faith. Ask God to guide you toward the people who can pray with you and help sustain you through whatever darkness you may be facing. Pray for protection for yourself and for those you love. Ask God to stay close to them and keep them safe from all harm; physical, emotional, or spiritual.
Don't let Satan distract you during your prayers. When random thoughts that come from nowhere interrupt your prayers, acknowledge them, and stop them in their tracks. Ask God to clear your mind and heart so you are ready for a warm and loving conversation with Him. If the phone rings or someone suddenly knocks on the door, do what you must, but then return to prayer, giving God your full attention. Start by thanking Him for all He's done for you and others before, those things that help you know you can trust Him now for the situation you face. Ask for renewed strength to believe Him even when things are difficult. Pray He will show you the most direct route for healing and guide you and your loved one to a place of hope and trust.
Pray for discernment.
My dear friends, many false prophets have gone out into the world. So do not believe every spirit, but test the spirits to see if they are from God. This is how you can know God's Spirit: Every spirit who confesses that Jesus Christ came to earth as a human is from God. And every spirit who refuses to say this about Jesus is not from God. It is the spirit of the enemy of Christ, which you have heard is coming, and now he is already in the world. – 1 John 4, NCV.
Because Satan has already lost the battle for your soul, He wants to confuse you about things of God. He does everything He can to interrupt your peace and put obstacles in your path. He is an extraordinary scam artist, better than any of those who exist today, so you have to pray for discernment, so you don't fall for any of his schemes. Ask God to keep you aware of those times when you are simply being deceived, out-and-out lied to, and led away from God's Spirit. Be steadfast in your prayers and read Scriptures that remind you of God's desire to work all things together for your good. If you keep your focus on Jesus, you will never be led away from Him. Hold on tight!
Pray for wisdom and help from others.
If any of you lacks wisdom, you should ask God, who gives generously to all without finding fault, and it will be given to you. – James 1:5, NIV.
Sometimes, the biggest reason we fail is because we try too hard to do everything ourselves. We feel discouraged or ashamed. We aren't sure we want others to know those things we'd prefer to keep secret. We try to fix every problem and bear the burdens all alone. It never works well! When your spirit is sagging and you've prayed all you can, then enlist the help of other prayer warriors in very specific ways. Tell them what you need and ask them to stand with you to strengthen your heart and soul.
If you need professional counseling, seek one that resonates with you in ways that lift you up and bring joy. Find a counselor who trusts in God as you do so that you're equally yoked. Let God help you with every resource He has available.
Prayer is part of your armor, and it's your oxygen. God is always ready to listen to you, talk to you, and strengthen you. Praise Him, thank Him, and let Him help you overcome any darkness that may be trying to surround you. He will surely bring you back to His perfect light, guide your steps, and protect your soul. Remember that God is with you always!
The winner has already been declared. You stand in the Light of His victory!