5-Yr-Old Sweetly Invites His Entire Kindergarten Class To Courtroom Hearing To Celebrate His Adoption
5-year-old Michael Orlando Clark Jr. was so excited to be adopted and find his forever family that he invited his entire kindergarten class to celebrate with him at the adoption hearing; and his whole class was able to attend.
"My name is Steven, and Michael is my best friend," one of his classmates announced to the judge during the hearing.
Michael first met his wonderful new parents, David Eaton and Andrea Melvin, at a Grand Rapids adoption event, and the two decided that Michael was the son they had been searching for. The Kent Michigan County Courthouse held their annual adoption day and Michael was one of 37 children who were lovingly and officially welcomed into their new families.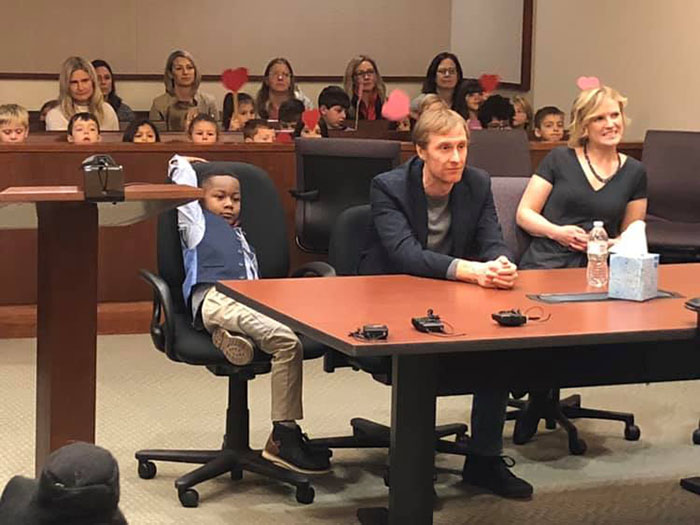 During his adoption day, Michael's entire adorable class and teacher came to cheer him on. His friends sat waving paper hearts throughout the ceremony and were each given a chance to introduce themselves and talk about how much they loved Michael.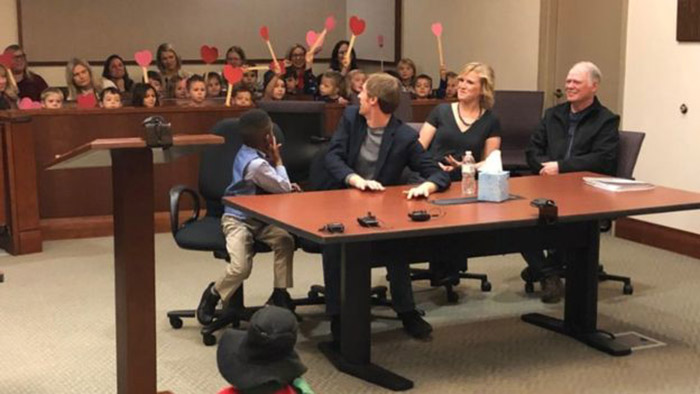 "My name is Lily, and I love Michael," shared one of his classmates.
His teacher also took the opportunity to speak about the importance of family.
"We began the school year as a family," she said. "Family doesn't have to be DNA, because family is support and love."
When it came time for Michael and his new parents to finalize the adoption, they brought down the gavel together, causing the courtroom to erupt with smiles, applause and love.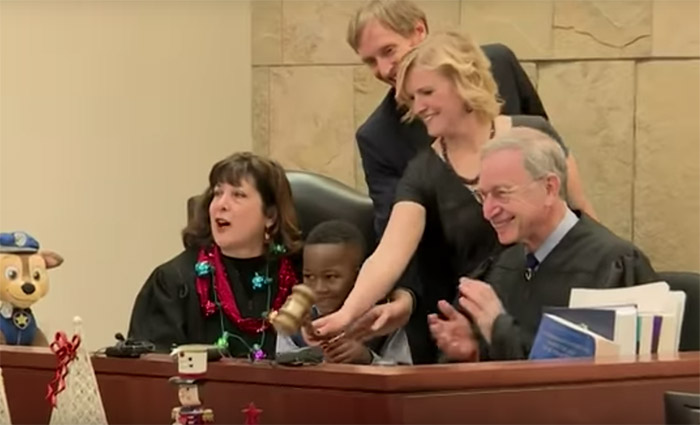 Judge Patricia Gardner sees a lot of adoption cases, and she was grateful to see how much sweet little Michael's kindergarten class was coming together to support him.



"Sometimes their journeys have been very long," she shared. "They've included miracle and change for the children and family, and incredible community support – as you're able to see today in Michael's adoption hearing."
The event deeply touched her heart.
"His whole kindergarten class and school [is] here to say 'we love you,' and 'we support you' and 'we'll be here not only today but in all the years in the future,'" she said.
Outside of the courtroom, Michael was filled with love for his new father, saying, "I love my daddy. I love him so much," multiple times, which caused David to tear up and lovingly embrace his son. Adoption is life-changing for everyone involved and the love within this family is evident.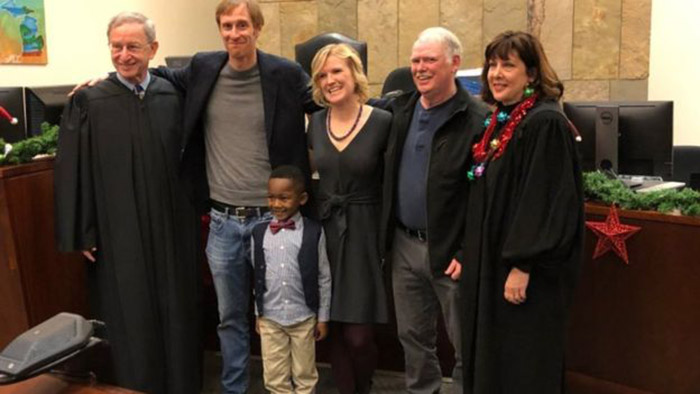 Thousands online were overjoyed to see such a beautiful experience take place at Michael's adoption.
"I adopted my baby boy today! So happy to see this family!" commented T. Moore.
"I got to witness two adoptions this morning and it is some of the most touching moments I think I've ever witnessed," shared Jake S.
"There is so much love for one person," wrote Kate M.
"Huge props to the teacher, school and family for making this happen! So cool!" commented Charlie M.
"What a lucky little boy. But even luckier are the parents getting such a great kid. Just lovely!" George L. said.
"As an adopted child, I love this!!! So glad the courts allow them to make it special!!" Michelle G shared.
While the adoption process can sometimes leave children feeling different than their peers, Michael will surely remember his adoption as a joyous experience that showed him just how much he is accepted and loved by his friends and community. Everything about this beautiful experience was shining with love.
Watch Michael's adoption in the following video.
You are Loved.